Check In Check Up, Arts + Health Ireland annual conference, Cork 2018
30/04/2018
|
Arts & Health
Tracing Autonomy Workshop
Kirsty was invited to host a workshop on Tracing Autonomy at Check In Check Up conference, Crawford Arts Centre, Cork.
Kirsty was invited by Arts + Health Ireland to give a one-hour workshop, Tracing Autonomy, as part of their annual conference Check In Check Out 2018. Attendees were arts and health practitioners and professionals working in healthcare. It was great to see such a good representation of healthcare professionals at this event, it demonstrated the commitment to arts and health practice as a whole across Ireland and its benefit for patients and the people who take part in these creative activities.
A total of 27 people attended the Tracing Autonomy workshop in the old library of the Crawford Arts Centre in Cork.
The workshop shared some of the ideas around autonomy at end of life that the art team at The Prince & Princess of Wales Hospice has been exploring with philosopher Prof. Ben Colburn from the University of Glasgow.

Central to living a good life is the value of autonomy: deciding for yourself what is valuable and living your life in accordance with that decision. The art team has been exploring this idea in relation to the creative approach in the art room.
As part of this workshop participants were invited to make their own mark using drawing materials, sound or voice. This practical activity helped to generate a lively discussion around what people perceived to be the ideal in supporting a person's autonomy through art making and also what the threats to their autonomy might be.
There was a fantastic breadth of experience in the room and people were generous in sharing their own insights in our discussions. The feedback from people on the day was very encouraging and showed me there was an appetite for thinking about the intricacies of artistic practice in terms of autonomy, both at end of life but also in many other healthcare settings.
The experience of giving this Tracing Autonomy workshop will inform the art team's continuing work with Ben. As an arts and health practitioner this opportunity highlighted the value in sharing practices so that we can learn from each other and ultimately improve what we do with the patients and families we work with at the hospice.
It was great to be able to share the work we are involved in at The Prince & Princess of Wales Hospice with our European counterparts in Ireland.

With thanks to the organisers.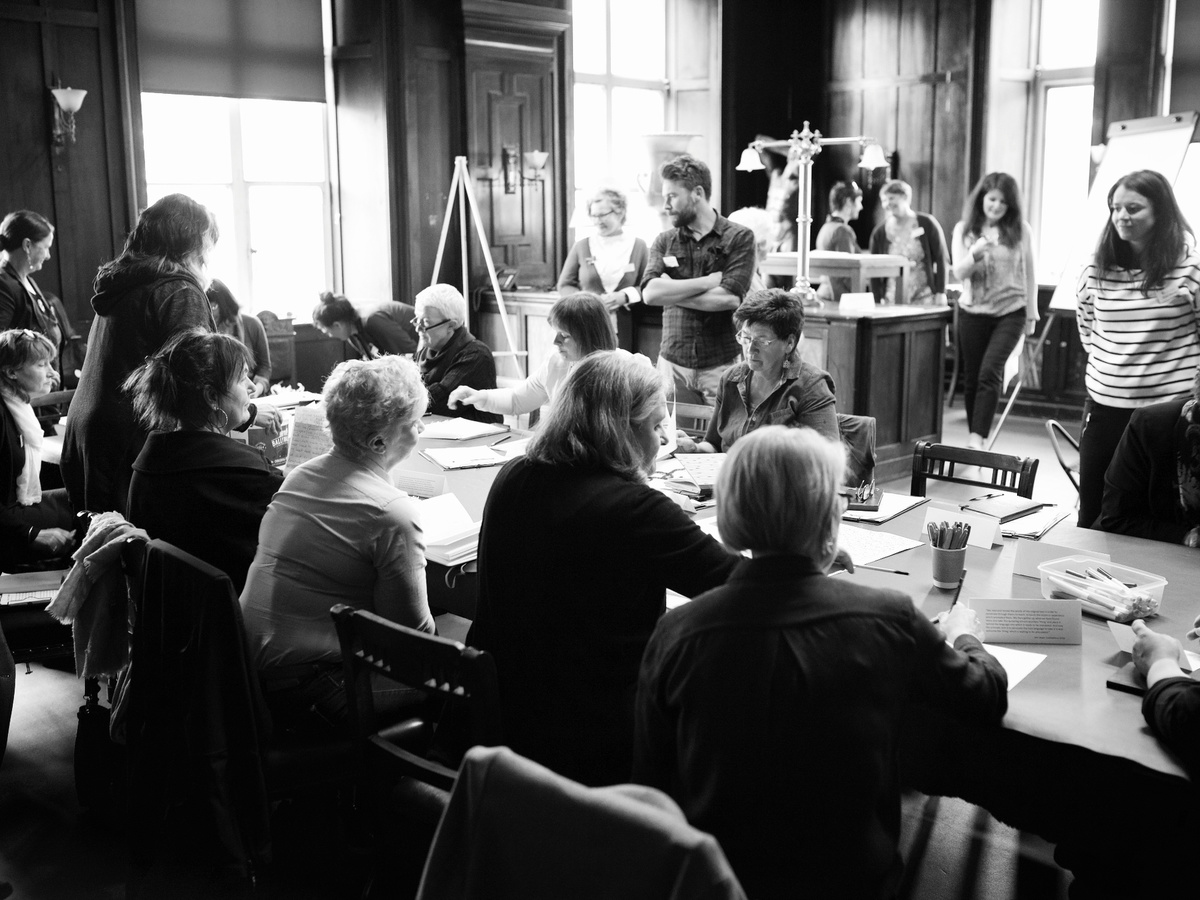 →
Photo Credit: Philip Cullen
The Tracing Autonomy workshop was presented by Kirsty Stansfield of the Prince and Princess of Wales Hospice, Glasgow, as part of Arts and Health Check Up Check In 2018, a leading national arts and health event in Ireland, open to healthcare professionals, arts practitioners and anyone interested in learning more about this exciting field. Check Up Check In is an annual event organised by www.artsandhealth.ie / Waterford Healing Arts Trust and Create, the national development agency for collaborative arts, and is funded by the Arts Council and the HSE. In 2018, local partners for Check Up Check In were Uillinn West Cork Arts Centre, Crawford Art Gallery, Cork Kerry Community Healthcare Health & Wellbeing and Niche Community Health Project.